Brighton Events during Autumn/Winter 2016
Here you can find a list of events happening over the next few months.
October 2016
On the October 21th 2016:
Poliça at Concorde 2
'United Crushers' is POLIÇA's third full length release and most remarkable album to date. The band, which includes Channy Leaneagh, dual drummers, Drew Christopherson and Ben Ivascu and Chris Beirden on bass with producer Ryan Olson at the helm, collectively wrote the album in Minneapolis in the winter of 2015 during their first true break from two years of touring. They recorded it at the renowned Sonic Ranch Studios in El Paso, nestled just a few short miles from the US/Mexico border. The new album builds on POLIÇA's signature synthesizer and percussion-heavy sounds with more complex arrangements and a bigger, crisper hi fi punch due to the new approach they took to writing and recording together, all in the same room.
Be enthralled by this electro rock band and book a room at The Gullivers Hotel to fall asleep in our beds with their songs in your head!
On the October 29th 2016:
Akala 10 years Tour at Concorde 2
10 Years of Akala gives one pause for thought – here is an artist that had it in him to keep his fierce independence when it was not fashionable, has performed in over 30 countries, released 6 albums, two books and has been a tireless voice for education and social justice in the UK and all over the world. Akala does so much it can be easy to forget that first and foremost he is an amazing musician. This anniversary release reminds us of that and the growth of a talent that has toured the UK and globally, all whilst being largely ignored by mainstream radio for the past decade. His live show is 90 minutes of relentless tracks, backed by intense and stunning visuals, live drums, a DJ and with no need for a 'hype man'.
By booking a room at The Gullivers Hotel, you can enjoy the power of words from the songs of this unique rapper!
November 2016
From November 1st 2016 to November 5th 2016
A Tale of Two Cities at Theatre Royal
Dickens himself considered 'A Tale Of Two Cities' to be his best story. Interweaving one family's intensely personal drama with the terror and chaos of the French Revolution, it is an epic story of love, sacrifice and redemption amidst horrific violence and world changing events. In an era of regime changes and citizen protest around the world, this bold new dramatic adaptation by Mike Poulton (Fortune's Fool, Old Vic; Wolf Hall) set to rousing original music by Oscar- winning composer Rachel Portman (The Cider House Rules, Beloved) seems more relevant than ever.
Immerse yourself the world of the Revolution and book a room at The Gulliver's Hotel to stay in a classic and vintage style!
On the November 6th 2016
RAC Veteran Car Run
The RAC Veteran Car Run is an annual London to Brighton run. This event is not a race, the cars are limited to an average speed of 20mph and the only reward for a successful run is a Finisher's Medal, only awarded to all who reach Brighton before 4.30pm. The run starts at Hyde Park in London and finishes on Madeira Drive, on Brighton seafront. Only cars built before 1905 can participate in this event.
Enjoy these timeless pieces and book a room at The Gulliver's Hotel to be as close to the action as possible!
On the November 10th 2016
Dr FeelGood at Concorde 2
Formed on Canvey Island in Essex in the early 1970s Dr Feelgood has become one of the most popular live rhythm and blues acts in the world. The raw and uncompromising style that made them so popular resulted in the band achieving a number one chart position with the album "Stupidity" - a testament to their dynamic stage show. Dr Feelgood have enjoyed a string of hit singles in many countries including "Milk & Alcohol", "Down at the Doctors", "Roxette", "She's a wind up" and "See you later Alligator". The current line-up of the band is led by their drummer Kevin Morris, and features Steve Walwyn on lead guitar, Phil Mitchell on bass and charismatic vocalist, Robert Kane, formerly of "The Animals II".
Book a room at The Gulliver's Hotel to be within 5 minutes walking from the Concorde 2!
From November 10th 2016 to November 12th 2016
Tape Face at The Old Market
Think you've seen Tape Face? Think again. This year promises to be a bigger, brighter and more spectacular re-imagining of his unique and special brand of silent comedy. This comedy is truly made for everyone, be prepared to get involved and enraptured as you step inside a comedy world unlike any other. Visually stunning, heart-stopping, and hilarious - you'll laugh, you'll cry, and when it's all over you'll be completely lost for words. Total sell-out at the Edinburgh Fringe Festival for four years in a row, four sold-out UK tours and a smash hit run in London's West End are enough evidence to confirm the reputation of the show.
Book a room at The Gulliver's Hotel and make a night of it!
On the November 16th 2016
New Model Army at Concorde 2
Now into their 37th year, New Model Army show no signs of slowing down and are releasing a new studio album in Summer 2016 followed by a European tour later in the year. "Between Dog And Wolf" marked a major creative resurgence in the band's long story. It received some of New Model Army's best-ever critical reviews and was their most successful album in more than 20 years, charting top 30 in UK and Germany. And late in summer 2016 will come a new, completely different animal – the band's 14th studio album: "Winter". For now, the band remain tight-lipped about its contents - except to say that they're really looking forward to getting out and playing it live.
Get out with them and book a room at the Gulliver's Hotel!
On the November 24th 2016
Catherine Tate at Brighton Centre
The critically acclaimed, award-winning comedian and actor Catherine Tate, will take 'The Catherine Tate Show Live' across the country this autumn and coming to Brighton for one night. In never seen before sketches, the tour will unite some of Catherine's best-known characters from her hugely successful BBC series 'The Catherine Tate Show'. The cast will include 'Nan' Taylor; Irish nurse Bernie; Geordie Georgie; Essex girl Sam and the return of a certain argumentative teenager… As special guest, Mathew Horne will follow Catherine Tate by playing several famous show's characters.
Have a great time with this popular show and book a room at The Gulliver's Hotel!
On the November 25th and 26th 2016
Witchfest International 2016 at Brighton Centre
Witchfest is the largest Witchcraft festival held in the World within recorded history, and is to be held in the Brighton Centre. Witchfest features up to six talks/workshops each hour. Talks are on a wide range of Witchcraft, Wiccan, Pagan, Occult and Mythological subjects. The entertainment is first rate, featuring live bands, DJ, and a team of drummers. There are more talks and workshops than ever before given by the most famous Witchcraft/Wiccan authors and experts in the world.
Get mysterious in Brighton and book a room at the Gulliver's Hotel!
Enjoy Brighton, enjoy life!
Please Note: You are always guaranteed our Best Available rate by booking direct - simply enter the code BRG3 at the booking stage to receive a 3% discount off our Best Available rates.
Autumn Special Offers
Brighton has so much to offer from fabulous unique shopping experiences to concerts, culture, great restaurants and of course the seaside!
Standard double en-suite from £59.00 room only
Click here to view specials in Brighton this month.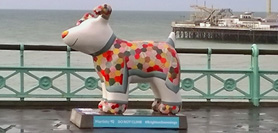 #NewSteineHotelSnowDog Competition!
To celebrate the launch of the 'Snowdog-by-the-Sea Art Trail' on 24th September 2016, our sister hotel, the New Steine Hotel is running a SnowDog Competition offering one lucky winner a complimentary night's stay at the Hotel! All you have to do is post the wittiest selfie with one of the many snow dog statues around the city and hastag us. More details here.
Christmas Party Venue
If you are looking for an ideal Brighton Christmas party venue, then Gullivers Hotel can help. Gullivers is located right in the heart of vibrant Brighton 's city centre. So you can start (and finish) your Christmas party with us.
From £12.95 per person
Christmas Parties in Brighton 2016.
What's On in Brighton
New Steine Bistro
Our sister hotel, The New Steine Hotel and Bistro has been awarded the AA Breakfast and Dinner Award for outstanding quality and service.
Read more about Our Bistro.
Gulliver's Hotel Reviews
Gulliver's Hotel Brochure
Download our Brochure.