Brighton Events during Summer 2017
Here you can find a list of events happening over the next few months.
Summer 2017 Events in Brighton
August 2017
FESTIVAL OF RACING
A 3 days event held at Brighton Racecourse that includes the much sought after Frosts Ladies Day and Checkatrade Festival finale. Fabulous entertainment, prizes and vintage bars are there to make sure to have a wonderful day out. Our unique course is set high above the sea, overlooking the vibrant city of Brighton and surrounding countryside and South Downes. The view needs to be seen to be believed. And nearby check in to the beautiful New Steine Hotel.
9 – 11 August 2017
LA CAGE AUX FOLLES
A major new production of the West End and Broadway Award Winning Musical Extravaganza! Star Casting to be announced (Plus, of course, 'Les Cagelles') at Brighton's Theatre Royal. Behind the curtains of this sparkling extravaganza, all may be about to change. Georges' son Jean-Michel announces his engagement to the daughter of a notorious right-wing politician determined to close down the local colourful nightlife. Drama and hilarity ensue when a meeting of the parents forces them to cover up their vibrant lifestyle. And don't forget to book your room at the New Steine Hotel.
15 – 26 August 2017
MAMMA MIA
Join the ultimate feel-good party at MAMMA MIA, the world's sunniest and most exhilarating smash-hit musical. Set on a Greek island paradise, a story of love, friendship and identity is cleverly told through the timeless songs of ABBA. This irresistibly funny show has been thrilling audiences all around the world and now the party comes to Brighton Centre for the first time, so there's never been a better time to see this unforgettable musical. And be thrilled by the great rates at the New Steine Hotel.
15 August – 3 September 2017
PAVILION LATES
Join us for a series of special late openings throughout the summer. Take advantage of the long evenings and explore the beautiful Royal Pavilion as it would have been seen by the Prince Regent's visiting guests. And don't forget to get booked into the New Steine Hotel.
Throughout Summer
BRIGHTON THAI FESTIVAL
This summer at Preston Park in Brighton, the Magic of Thailand brings a two days experience to you. Treat yourself to a weekend wonder where you can challenge your taste buds and feast your eyes on world-class food and performances. Unwind with a traditional Thai massage and don't miss the unique eating competition and Muay Thai boxing. It starts with a food offering to Buddhist monks and entertainment throughout the day including music and dancing, Ladyboy, Thai beer garden. And then chill out at the lovely New Steine Hotel.
20 August 2017
SERVANT STORIES
Hidden away from the grand public room s the Royal Servants carried out their work, just footsteps away from the monarch, yet silent and largely unseen. Find out about the real-life stories of the First Yeoman of Confectionery, the Clerk Comptroller of the kitchen, the Head Table Decker and other members of the Pavilion's Royal Household, brought to life through the objects they used and information from our archives. And book into the New Steine Hotel.
14, 21 & 28 August 2017 – http://brightonmuseums.org.uk/discover/events/event/the-royal-pavilion-tunnel-tours/
September 2017
Summer Kid's Fest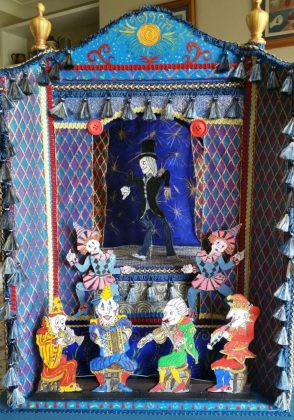 The Big Tree Climbing Company will be offering climbing lessons with fully qualified staff in their grandest trees, challenging kids and adults alike to reach for the sky.
Place : Proud Country House
The Proud Country House Kids Festival is a not-for-profit event; all ticket profits will be donated to local charity Chestnut Tree House.
Date : July 1st – September 17th 2017
Glyn Philpot
Glyn Warren Philpot was an English painter and sculptor, best known for his portraits of contemporary figures such as Siegfried Sassoon and Vladimir Rosing. Come to visit this extraordinary exhibition and book a room at the New Steine Hotel.
Place: Royal Pavillon Museum
Price : Free with admission to Brighton Museum members and residents, otherwise you can refer to the admission charge.
Date : 20 July 2017 to January 2018
Stories on the Wing : British Birds in Literature
For bird lovers 'Stories on the wing' explains the importance of birds in literature in the Victorian period and more. There are different stories accessible to everyone. Come to discover unknown things about birds and listen to epic stories about them.
Price : Free admission (but you need to register on
Date : 19 May to 21 September 2017
The Art of Puppetry: Making Magic in the Museum
Go along to this free family-friendly display of the world of puppets and puppetry artists. See the rich and colorful puppets, stage sets and paintings of several Sussex artists who explore old and new stories through their creations. For more information visit www.brightonmuseums.org.uk/hove
26 May 2017 at 10:00 am – 30 November 2017 at 5:00 pm
Price : Free admission
Place : Hove Museum
Enjoy Brighton, enjoy life!
Please Note: You are always guaranteed our Best Available rate by booking direct - simply enter the code BRG5 at the booking stage to receive a 5% discount off our Best Available rates.
Summer 2017 Specials
Brighton has so much to offer from fabulous unique shopping experiences to concerts, culture, great restaurants and of course the seaside!
Standard double en-suite from £59.00 room only
August & September 2017 Special Offers in Brighton.
---

Summer Family Holidays 2017
Triples from only £74.00 B&B
---
Best Rate Guarantee
Book direct during the summer holidays and get 10% off our best available rates.
---
Summer 2017
Brighton has loads of fabulous events on this summer - read more about our choice picks here.
What's On in Brighton
There's always plenty to do and see in Brighton. Check out our Brighton What's On guide here or our choice picks of Brighton events listings. Alternatively view our guide to Brighton's; theatres, comedy clubs, nightclubs, sports clubs, Gay Brighton and North Laines. Or visit The Royal Pavilion, The Brighton Centre, The Brighton Dome, Brighton Marina, Brighton Pier or Brighton Theatre Royal.
New Steine Bistro
Our sister hotel, The New Steine Hotel and Bistro has been awarded the AA Breakfast and Dinner Award for outstanding quality and service.
Read more about Our Bistro.
Gulliver's Hotel Reviews
Gulliver's Hotel Brochure
Download our Brochure.