Award Winning Bistro, Brighton, Sussex
Gulliver's sister hotel - The New Steine Hotel and Bistro is just two doors away and popular with travellers and Brighton locals alike, serving classic and distinctly French dishes at affordable prices. The restaurant recently was awarded the AA Breakfast and Dinner Award in recognition of the outstanding quality and service, with food locally sourced from Sussex farmers and producers.
The a la carte menu showcases the talent of our team of chefs and will have you coming back for more.
Book a table now - 01273 695 415
View our seasonal menu below:
* * *
Starters
Assiette de Charcuterie £ for 2 persons £13.75
(Saucisson, Chorizo, Bayonne Ham and Duck Rillette Pate served with warm toast)
(supplement of £2.50 when part of the specials / offers)
Duck Foie Gras, served with warm toast £9.95
(supplement of £2.50 when part of the specials / offers)
Salmon & Advocado Tartare, served with warm toast £6.50
Chef's Special of the Day £6.50
Tarte du Jour (V) £5.75
Soupe du Jour (V) £4.95
Crab Ravioli in Fish Consomme £6.50
Duck Rillette Pate, served with warm toast £6.50
Timbale d'Escargots, with garlic butter £7.95
* * *
Main Courses
Special Fish & Meat of the Day (see our board) £12.95
Skewered St Jacques, with chorizo, rice & spinach timbale £15.50
(supplement of £2.50 when part of the specials / offers)
Pan Fried Sea Bass served 'a la Provencale', served with basmati rice and ratatouille £14.50
Sirloin Steak, with 'Beurre Maitre D'hotel', salad and chips £16.50
(supplement of £2.50 when part of the specials / offers)
Chicken Ballotine stuffed with Autumn vegetables,
served with Gratin Dauphinois £14.50
Duck Confit, served on a bed of Lentils & Lardons £13.95
Sussex Braised Pork Cheeks, in a red wine & shallot sauce,
served with new potatoes £13.75
Goat's Cheese on Toast Salad (V) £9.95
Savoury crepe filled:
- With ratatouille and a fried egg on top (V)
- With Sussex Ham, Mushroom & French Emmental fried egg on top
All served with green salad £9.95
Selection of Omelettes, served with chips or salad (V) £8.95
Supplements
Bread/Butter £1.95, Olives £1.50, Salad £2.95,
Seasonal Vegetables £2.95, Chips/Gratin Dauphinois/New Potatoes £2.95.
* * *
Desserts
Tiramisu £5.95 Creme Brulee £5.95 Chocolate Mousse £5.95
Profiteroles £5.95 Seasonal Fruit Tarte £5.95 Ice Cream £4.50
* * *
Coffees
Espresso, Americano £1.95 Latte, Double Espresso £2.50 Selection of Teas £1.75
* * *
Digestifs
Brandy, Armagnac, Calvados £3.75 Amaretto, Baileys, Tia Maria, Cointreau £3.95
* * *
Any Liquor Coffee £5.95
Liquor Coffee of your choice Calypso Coffee (Tia Maria) French Coffee (Brandy) Italian Coffee (Amaretto)
* * *
Download the Menu
Download the Winter 2016 a la carte menu as a PDF (196Kb).
Read the Reviews
The New Steine Hotel's cosy French restaurant in the heart of Brighton - Press and Reviews sections.
To book a table at the New Steine Hotel bistro in Brighton,
please call us on +44 (0)1273 695 415
Please Note: You are always guaranteed our Best Available rate by booking direct - simply enter the code BRG3 at the booking stage to receive a 3% discount off our Best Available rates.
Autumn Special Offers
Brighton has so much to offer from fabulous unique shopping experiences to concerts, culture, great restaurants and of course the seaside!
Standard double en-suite from £59.00 room only
Click here to view specials in Brighton this month.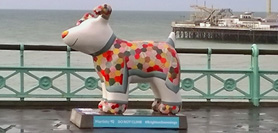 #NewSteineHotelSnowDog Competition!
To celebrate the launch of the 'Snowdog-by-the-Sea Art Trail' on 24th September 2016, our sister hotel, the New Steine Hotel is running a SnowDog Competition offering one lucky winner a complimentary night's stay at the Hotel! All you have to do is post the wittiest selfie with one of the many snow dog statues around the city and hastag us. More details here.
Christmas Party Venue
If you are looking for an ideal Brighton Christmas party venue, then Gullivers Hotel can help. Gullivers is located right in the heart of vibrant Brighton 's city centre. So you can start (and finish) your Christmas party with us.
From £12.95 per person
Christmas Parties in Brighton 2016.
New Steine Bistro
Our sister hotel, The New Steine Hotel and Bistro has been awarded the AA Breakfast and Dinner Award for outstanding quality and service.
Read more about Our Bistro.
Gulliver's Hotel Reviews
Gulliver's Hotel Brochure
Download our Brochure.