Dave Pop
At Gullivers Hotel
Dave Pop! is a Brighton artist who turns his beautiful drawings of voluptuous ladies and beefy hunks into psychedelically coloured prints.
A mixture of the Baroque, Pop art and saucy seaside postcards makes Dave's work just so Brighton!
Dave has exhibited in the open house festivals twice, and has been nominated for the Best House each time, and is currently working on a range of jewellery for Jeremy Hoye as well as his regular day job as Creative Head for Choccywoccydoodah.
Enjoy Brighton, enjoy life!
Please Note: You are always guaranteed our Best Available rate by booking direct - simply enter the code BRG3 at the booking stage to receive a 3% discount off our Best Available rates.
Autumn Special Offers
Brighton has so much to offer from fabulous unique shopping experiences to concerts, culture, great restaurants and of course the seaside!
Standard double en-suite from £59.00 room only
Click here to view specials in Brighton this month.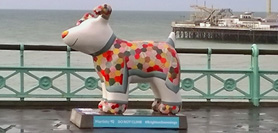 #NewSteineHotelSnowDog Competition!
To celebrate the launch of the 'Snowdog-by-the-Sea Art Trail' on 24th September 2016, our sister hotel, the New Steine Hotel is running a SnowDog Competition offering one lucky winner a complimentary night's stay at the Hotel! All you have to do is post the wittiest selfie with one of the many snow dog statues around the city and hastag us. More details here.
Christmas Party Venue
If you are looking for an ideal Brighton Christmas party venue, then Gullivers Hotel can help. Gullivers is located right in the heart of vibrant Brighton 's city centre. So you can start (and finish) your Christmas party with us.
From £12.95 per person
Christmas Parties in Brighton 2016.
What's On in Brighton
New Steine Bistro
Our sister hotel, The New Steine Hotel and Bistro has been awarded the AA Breakfast and Dinner Award for outstanding quality and service.
Read more about Our Bistro.
Gulliver's Hotel Reviews
Gulliver's Hotel Brochure
Download our Brochure.