Gay Friendly
Brighton Pride 2016 - 5- 8th August
One of the most awaited events of the year is back in Brighton!
The owners of Revenge Nightclub, the editor of Gscene Magazine and Paul Kemp of Wild Fruit will run this event to offer you an amazing week end full of colours and entertainments. Preston Park, tone of the highlights of the weekend will be ticked again this year. And, of course, don't miss the traditional parade in the city centre.
As always Gulliver's Hotel has some great accommodation deals allowing to make it your home during the festivities and be minute away from all the parties.
Special room only rates for Pride weekend
Single – £67.50 BB / £62.50 RO
Standard Double/Twin – £139 BB / £129 RO
Deluxe Double/Twin – £159 BB / £149 RO
Standard Triple – £169 BB / £154 RO
Brighton Winter Pride - Dates TBA
Aimed at the city's gay, lesbian, bisexual and transgender community, Winter Pride has become a week long entertainment fiesta for everyone, no matter what their orientation. It promises to keep you smiling and laughing, and raises much needed monies for the many charities it supports, as well as giving a well earned financial boost to the Summer's Pride Event. Take in all this event has to offer with some amazing week long and weekend deals from the New Steine & Gulliver's Hotels.
Enjoy Brighton, enjoy life!
Please Note: You are always guaranteed our Best Available rate by booking direct - simply enter the code BRG3 at the booking stage to receive a 3% discount off our Best Available rates.
Autumn Special Offers
Brighton has so much to offer from fabulous unique shopping experiences to concerts, culture, great restaurants and of course the seaside!
Standard double en-suite from £59.00 room only
Click here to view specials in Brighton this month.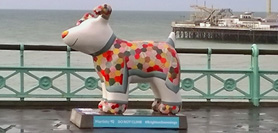 #NewSteineHotelSnowDog Competition!
To celebrate the launch of the 'Snowdog-by-the-Sea Art Trail' on 24th September 2016, our sister hotel, the New Steine Hotel is running a SnowDog Competition offering one lucky winner a complimentary night's stay at the Hotel! All you have to do is post the wittiest selfie with one of the many snow dog statues around the city and hastag us. More details here.
Christmas Party Venue
If you are looking for an ideal Brighton Christmas party venue, then Gullivers Hotel can help. Gullivers is located right in the heart of vibrant Brighton 's city centre. So you can start (and finish) your Christmas party with us.
From £12.95 per person
Christmas Parties in Brighton 2016.
What's On in Brighton
New Steine Bistro
Our sister hotel, The New Steine Hotel and Bistro has been awarded the AA Breakfast and Dinner Award for outstanding quality and service.
Read more about Our Bistro.
Gulliver's Hotel Reviews
Gulliver's Hotel Brochure
Download our Brochure.