Clubbing in Brighton
Brighton has a vibrant night life, with over 400 pubs and many clubs in the city centre. Clubbers who don't want a long walk home can enjoy the following venues and clubs, close to New Steine Square:
The Funky Fish Club
Located just around the corner from the Hotel, the Funky Fish is a small, humble club with a huge atmosphere. With a wide range of nights, from Soul and Jazz to Funky 70's and 80's music, you're sure to find something to your liking, and with free entry passes and queue jumping tickets from our Reception (subject to availability) it's a must for those clubbers.
Audio
Having just launched their 'Summer of Love', and being only a 5 minute walk along the seafront, it's worth a stop in - with it's outside heated clubbing terrace and 2 floors of music and bars, a night out isn't a night out without stopping in to Audio - big clubbing night is Saturdays for one of Brighton's busiest clubs.
Koba Club
A short taxi ride away to Western Road, is the Koba Club - an exclusive meeting place for those trendy individuals who expect more. With cocktails, energetic staff, eclectic music and amazing surroundings it really is the place to be seen out in Brighton
Enjoy Brighton, enjoy life!
Please Note: You are always guaranteed our Best Available rate by booking direct - simply enter the code BRG3 at the booking stage to receive a 3% discount off our Best Available rates.
Autumn Special Offers
Brighton has so much to offer from fabulous unique shopping experiences to concerts, culture, great restaurants and of course the seaside!
Standard double en-suite from £59.00 room only
Click here to view specials in Brighton this month.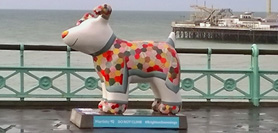 #NewSteineHotelSnowDog Competition!
To celebrate the launch of the 'Snowdog-by-the-Sea Art Trail' on 24th September 2016, our sister hotel, the New Steine Hotel is running a SnowDog Competition offering one lucky winner a complimentary night's stay at the Hotel! All you have to do is post the wittiest selfie with one of the many snow dog statues around the city and hastag us. More details here.
Christmas Party Venue
If you are looking for an ideal Brighton Christmas party venue, then Gullivers Hotel can help. Gullivers is located right in the heart of vibrant Brighton 's city centre. So you can start (and finish) your Christmas party with us.
From £12.95 per person
Christmas Parties in Brighton 2016.
What's On in Brighton
New Steine Bistro
Our sister hotel, The New Steine Hotel and Bistro has been awarded the AA Breakfast and Dinner Award for outstanding quality and service.
Read more about Our Bistro.
Gulliver's Hotel Reviews
Gulliver's Hotel Brochure
Download our Brochure.